holger nauheimer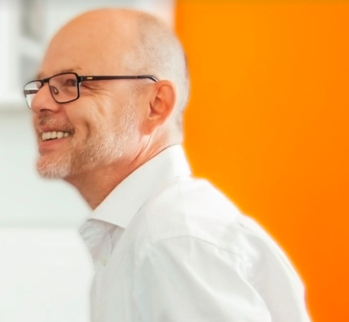 Latest news: I joined orange cpm as a partner! We are passionate about projects and have a sense of change


In the 1980ies, camel nomads at the Horn of Africa taught me the essential lessons that I needed in order to grow into my professional life. They are the artists of uncertainty, living and managing in a highly fragile and ever changing environment.
In 1994, somebody asked me whether I want to facilitate a planning workshop in Southern Kazakhstan. I said yes. And this YES changed the direction of my life. Je ne regrette rien.
My early teachers Robert Dilts and Stephen Gilligan later helped me understand how to acquire new skills for dealing with people, teams and organizations, which my veterinary school had forgotton to include in their curriculum. Beyond that, Stephen taught me the courage to love.
It was crazy ideas which marked new turns of my life. In 1997, I thought it would be cool to have my own website. So, instead of a simple website I wrote the Change Management Toolbook which subsequently brought me in contact with thousands of great souls. In 2004, the next idea was to create an international network of change facilitators. 2009 was a year full of ideas: my friend Vesa and I were thinking of writing a book together and we ended up drawing The Change Journey Map. Later that year, I organized a large virtual unconference which helped me understanding the principles of virtual collaboration, and towards the end of 2009, I thought it would be cool to host an international change management conference in Berlin. That has grown and it is now known as the Berlin Change Days.
In between living my dreams and dreaming my life, I learned a lot from working with my clients. There are the ones who I owe a lot – they helped me to become who I am. Thanks for hiring me, clients!
I love my wife and my daughter, and I enjoy (in order of preference): cooking, cross country skiing, roadcycling, and good Jazz music.
Read more about my approach to change facilitation in an interview that I gave a few years ago.
Core skills
Leadership. Holger Nauheimer is passionate about bringing change to the world by helping leaders to discover their potential, and expanding their boundaries. He has trained around 2000 leaders of profit and non-profit organizations around the world.
Change Management and Organizational Development. Holger Nauheimer is helping organizations to optimize their resources, to improve their performance, to analyze their weaknesses and to make collaboration happen. He is doing that through his process oriented facilitation, coaching and training approach.
Training and Facilitation: Since 1995, Holger Nauheimer has been an inspirational trainer and facilitator in various fields, including train-the-trainers, change management, leadership, virtual collaboration, project management, and other topics. He designs and manages large training programmes. In the last years, he has delivered 100 leadership training courses for private and public clients including BP; Vattenfall and Europol
Project Management; Monitoring and Evaluation. Holger Nauheimer has been working as a project manager and project management advisor for more than 20 years. He has monitored and evaluated more than 50 projects in different fields and on different continents. For the European Commission he was team and mission leader of the Asian Monitoring system, analyzing project results in many Asian countries including Indonesia, China, Vietnam, Philippines, India, Pakistan, Bangladesh and Sri Lanka
Virtual Collaboration and Knowledge Management. As a member of Radical Inclusion, a global network which is re-defining collaboration, Holger Nauheimer is working at the leading edge of helping disseminated teams work effectively. Holger masters both sides – the change management and the tool related side of knowledge management and virtual collaboration. In 2012, he has consulted the ASK programme of the International Secretariat of Transparency International on issues of Knowledge Management.
Development Policy. Beside his involvement in change management processes in global private sector enterprises, Holger Nauheimer is collaborator and observer of the development assistance sector, with a specific focus on the UN system and the German development collaboration. He has regularly worked for many agencies such as InWEnt, Friedrich-Naumann Foundation, GTZ, UNDP, FAO and others.